My Uncle's life in the National Children's Home
My Uncle grew up in the National Children's Home in Highfield, Harpenden, leaving when he was 15.  He has very fond memories of his time there because of the support, care and love he received.
Since meeting him for the first time in 2013, his sister (my Mum) and I are keen to learn about his life. Like you, we wondered how daily life worked in the Home, and what some of the challenges were.
Born in 1944 to a single mum in domestic service, Richard was placed in the Harpenden branch of the Home in 1945 when he was 18 months old.  His Mum visited about once a month.  When he was 13 he had the option of living with her, but he chose to stay at the Home, as he explains in this video.
The grounds and facilities
Purpose built in 1913, the Highfield Harpenden branch comprised 40 acres (sold off over time) and was home to around 200 children, plus staff, at any one time. The Home was self-contained with a church, hall, printworks, bakery, farm, cemetery, hospital, dentist, clothes and shoe store.
(source: Their History)
(Source: Their History)
The extensive grounds were a treasure trove for the children, and the feeling of space and freedom was an important part of Richard's childhood years.  This must have felt a privilege, something not many children got (or get) to experience.  It was a sheltered, happy life, but with very few male family role models, he didn't feel prepared for the sometimes harsher realities of life in the 'outside world'.
By the time Richard was there in the 1950's, boys and girls lived together in purpose built flats (two per house).  The 10 houses were arranged around the central Oval, with 10 children in each flat looked after by a House Mother, or Sister.   The Sisters were Methodists who chose to train and devote their lives to bringing up the children in their care.
Renamed Action for Children in 2008 to represent the wider range of services than just children's homes, it remains the children's charity of the Methodist church.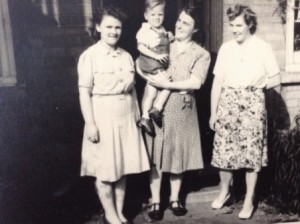 Richard has very fond memories of Sister Ena, the House Mother for Flat 15 in Walker House.  She became a lifelong family friend and support throughout Richard's life.  Here he recalls some memories of her in the Home
Duties like washing up, drying and laying the table would be shared amongst the children, depending on age.  One of Richard's jobs for a while was stoking the boiler morning and evening to ensure sufficient hot water and heating.  Thanks to this promotional video from 1954 filmed in the Flat Richard lived, we can see first hand what life was like.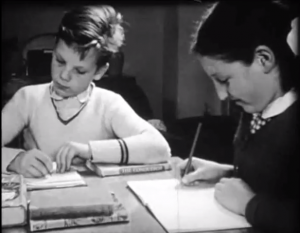 A still image from the video below, showing Richard doing his homework.
(Source: PhilipAStrangeChild)
With a fascination for cars and mechanics that began around the age of 11, Richard has spent much of his life driving coaches.  In the Home, his interest was supported and encouraged by the staff (as they did for all the children).  Staff also took an active role in helping children settle into jobs and lodgings once they left at 15.
Cubs and Scouts provided valuable practical life skills, and he really enjoyed the outdoor activities.  This has been a lifelong interest, where Richard and his wife Sharman have committed a lot of their time and energy to both the Guides and Scouts.
Christmas, Holidays and Parties
Many children stayed in the Home throughout the year, so it was normal to celebrate Christmas and birthdays there.
The staff would organise trips and holidays to the seaside, and other companies and charities would provide parties for the children.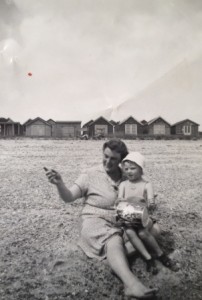 Birthday and Christmas presents were provided by the Home, and here is Richard (second from left) looking really pleased with his first bike.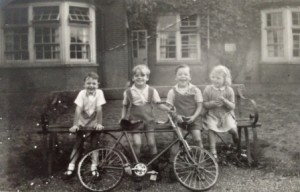 And the children out on a bike ride a few years later (Richard back left)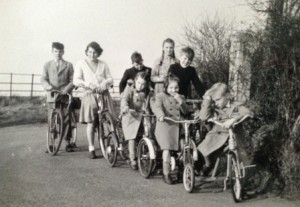 Here Richard recalls some party stories, one involving a misfortune with a firework (!) and another where a company took it upon themselves to take the children to the Ritz Hotel, to see how they would behave.  Once Sister Ena found out what was going on she put a stop to this unacceptable behaviour.
Learning the truth about his Dad
Imagine not knowing who your father was, and then discovering one day that it was in fact someone you've already known your life, but in a different role? Richard was 51 before his learnt the truth, that his Uncle was his Dad.
So yes, his five cousins were in fact his step-brothers and sisters.  The truth must have been difficult for his Mum to bear, but being able acknowledge it has been a powerful tool for all the family, allowing everyone in their own way to accept what actually happened.  It is now also possible to see the genetic links with health problems across the family, between both sisters (Richard's Mum Jennie, and her Sister Violet) and their children and grandchildren.